Pop-up skater ramps in Billund
Find your scooter or skateboard
In the last couple of years, hard work has been done to create a skating environment in Billund. A dream that started within 3 local boys who needed a place to do tricks on their skateboards and scooters. That dream was developed over 2019 and a  Facebook group, named Billund Skatepark Project was created. Today more than 170 have joined the group. 
Together with local skater enthusiasts, a temporary skating environment has been created at Kløvermarken in Billund. The area has been co-created with the association Billund Skatepark Project, here the young skaters have helped develop the area with different kinds of ramps and in the spring of 2020 new asphalt was laid.
The pop-up skate ramps are a temporary area that aims to create a framework for the city's skate enthusiasts. Here, children, young people, adults, and the elderly can come and test their skills on a skateboard or a scooter while others are looking into the opportunity to create a permanent skating environment in the city. You can read more about this if you join the Facebook group Billund Skatepark Project.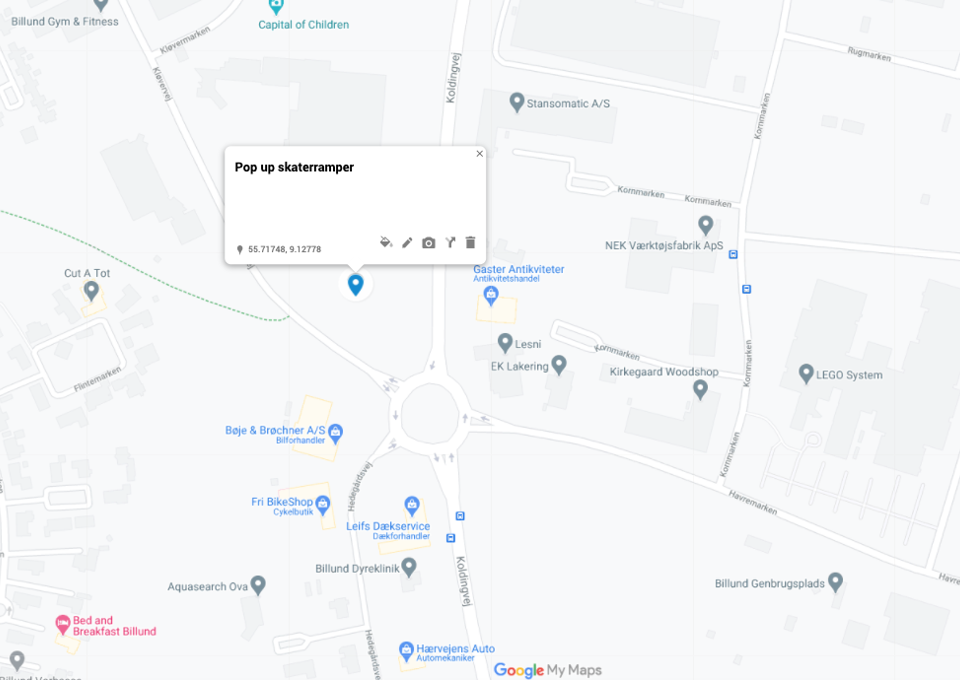 Arrive safely to the area
The skater ramps are located in an enclosed area by a parking lot next to CoC Playful Minds. A path has been established which crosses Kløvervej and provides direct and safe access to the skate ramps. Click on the link below to see the location on a map.
Rules and safety
The ramps are open to the public, and you are welcome to use them and this area at your own risk.
It is mandatory to wear a helmet, knee & elbow protection/pads when using the skater ramps and you must be 8 years old or older.
Skater ramps are OFF-LIMITS to ordinary bicycles, motorized equipment such as electric scooters and the like. This area is not to be used in wet, snowy or icy conditions.
Please be considerate of others using the ramps and keep the area for rolling between the ramps clear so that you and others can roll here. If you are waiting for a turn, please stand at the edge of the area so others can roll freely between the ramps.
The ramps have been approved by a certified playground inspector from DALPIN when they were installed and are inspected regularly. The ramps are produced by Populär Handcrafted Skateparks e.K. in accordance with standard EN14974: 2019.
Although the ramps are inspected regularly, they must not be used if anything is broken. Please contact us at our office at Kløvermarken 35. We are usually open Monday to Friday from 9:00 am to 4:00 pm. At other times or if you don't find us at the office, you can contact Securitas at tel:  72 26 83 50.
Alarm: Call 112 if you are injured and need help.

The ramps were set up by CoC Playful Minds and funded by "The Foundation for Billund Hostel".
Contact Helle for more info
Helle Neigaard
Head of Playful Spaces